Snek
A modern reimagining of the classic Snake, created for the monthly Eggplant Podcast Gamejam.
Controls - Arrow keys and W, A, S, D, use the mouse for menu navigation

SNEK eats orbs

to earn points and grow longer, but each uneaten orb turns into a bothersome grub

. Grubs band together when close and implode when they get too large, leaving a tasty diamond

behind. Eating a diamond halves SNEK's size! SNEK must carefully choose which orbs to eat, and which to leave, engineering his future obstacle course while gaining as many points as possible.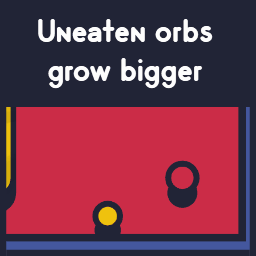 Current Features
- 15+ unlockable palettes
- Local and online highscores
- Configurable game speed for greater accessibility
Upcoming Features
- Competitive online highscores
- Unlockable skins
- Unlockable boons that alter gameplay*
- More game modes*
(*) planned but dependent on final scope
The game is currently testing on Testflight, feel free to contact me if you are interested in testing on iOS.
Special Thanks
A very special thanks goes out to @grapefrukt aka Martin Jonasson for his excellent bulk-lines, which is used to draw everything but the fonts in SNEK.